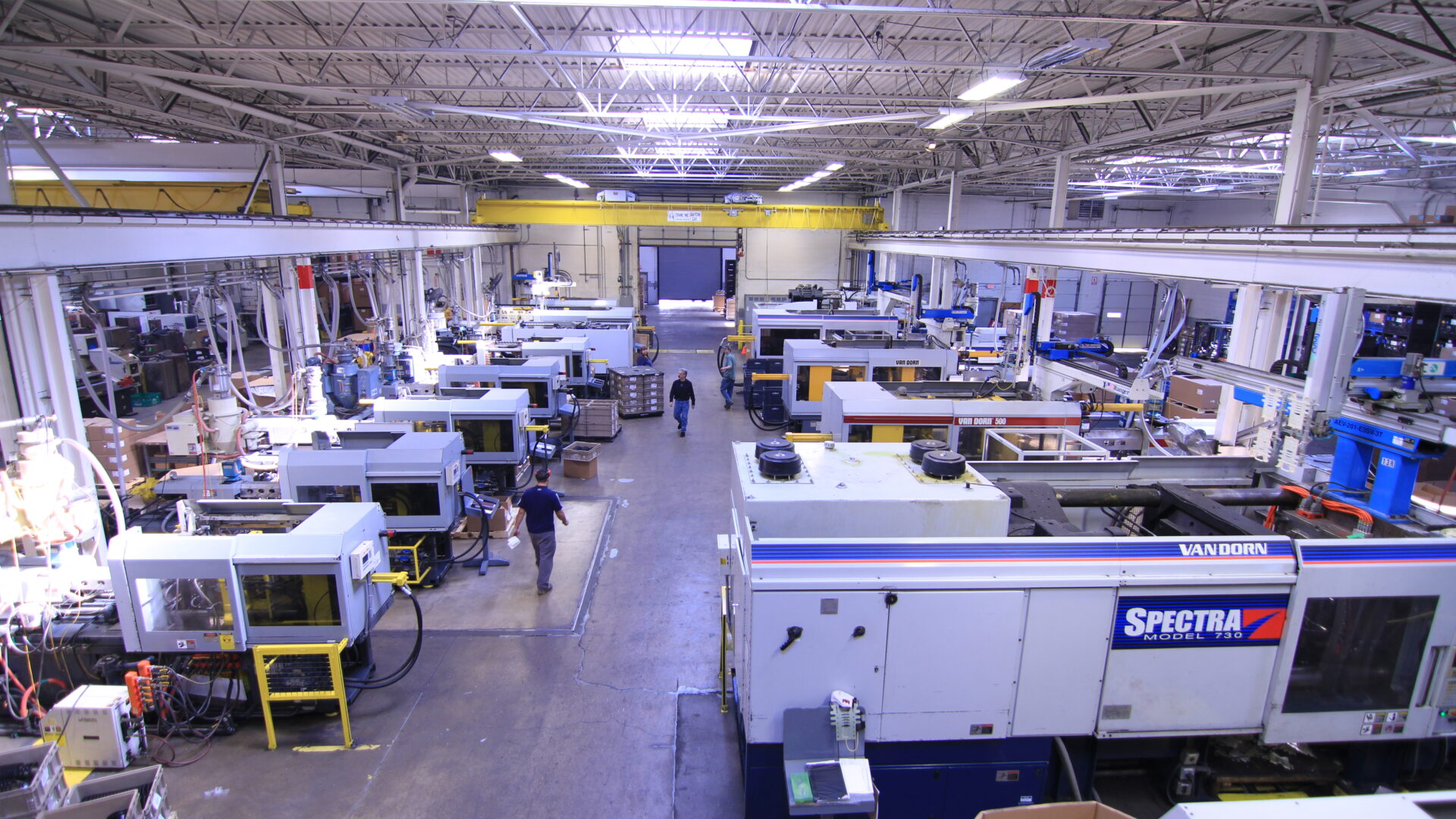 Terms
&

Conditions

The terms and conditions of sale.
Terms and Conditions of Sale
I. General
The Terms and Conditions of Sale outlined in this Contract (the ​"Terms") apply to the sale by Summit Plastic Molding, Inc., a Michigan corporation (the ​"Company") of products, components and parts (the ​"Products"). The Terms are an integral part of the quotation the Company prepared and delivered to you (​"Customer"). The quotation constitutes the Company's offer to sell the goods as described in the quotation. Unless Customer accepts the quotation in writing, neither its preparation or delivery forms a contract,. When the quotation and these Terms are accepted they are referred to as the ​"Contract." Customer's acceptance is expressly conditioned on its assent to all terms and conditions in the Terms and the quotation. If Customer's acceptance conflicts with, varies or supplements the Terms, the Company objects to such provisions and the Terms will govern; the Customer's conflicting, varying or supplemental provisions are rejected and are null and void. Company's delivery of Products will be in accordance with the Terms.
II

. Shipment, Title and Risk of Loss or Damage

Unless otherwise agreed by the parties, shipment of Products is complete when the Company tenders delivery FCA Company manufacturing facility (Incoterms 2012), and title and risk of loss or damage to the Products then passes to Customer. If the Contract requires delivery by Company, risk of loss passes to Customer on delivery. Company will provide a freight allowance for products that are back ordered as determined by Company, but Customer's request for a partial release of an order will not qualify for that freight allowance. Customer grants Company a security interest in the Products, regardless of whether the Product is attached to realty or other property, until the Company has received full payment for the order. Customer consents to the Company filing one or more financing statements.
III

. Assignment

Customer may not assign or transfer this Contract without the Company's prior written consent.
IV

. Delivery and Delays

Delivery dates will be estimated and dates will not be construed as falling within the meaning of ​"time is of the essence". The Company is not liable for any loss or delay due to war, riots, terrorist activity, fire, flood, strikes or other labor difficulty, acts of civil or military authority, damage or delay in transportation, inability to obtain necessary labor or materials from usual sources, or other causes beyond Company's reasonable control. If performance is delayed due to any such cause, the date of delivery or time for completion will be adjusted to reflect the actual time lost by such delay. Customer's receipt of Products constitutes a waiver of any claims for delay.
V. Terms of Payment and Interest
The terms of payment are net thirty (30) days from the invoice date, subject to the approval of the Company's credit department at the time of shipment. The Company reserves the right to require payment in advance, C.O.D. or guarantee by letter of credit, and to otherwise modify credit terms at its discretion based on the financial condition of Customer or changes that impact the ability of Customer to perform. All payments not made when due accrue interest at 1.5% per month (18% per annum) or the highest amount allowed by law, whichever is less.
VI

. Prices and Taxes

Prices are subject to change without notice and do not include any present or future Federal, State, or local property, license, privilege, sales, use, excise, gross receipts or other like taxes or assessments which may apply to, measured by, imposed or resulting from this transaction. Taxes will be itemized separately to Customer, who will make prompt payment to the Company. The Company will accept a valid exemption certificate from Customer, if applicable. If an exemption certificate is not recognized by the involved governmental taxing authority, Customer agrees to promptly reimburse the Company for any resulting taxes the Company must pay. Customer will indemnify and hold the Company harmless from the payment or imposition of any tax or levy imposed on any Products sold to Customer, plus penalties, interest and reasonable attorneys' fees connected with the imposition of any such tax or levy.
VII

. Set Offs

Neither Customer nor any affiliated company or assignee may claim compensation or to set off against any amounts which become payable to the Company under this Contract or otherwise.
VIII

. Indemnification and Insurance

Customer assumes all responsibility that the Products are fit for the intended purpose, and Customer is fully responsible if Products are used in a manner inconsistent with their specifications.

Customer will indemnify, defend, save, and hold harmless the Company, its parent, affiliates, directors, officers, servants, and employees, against all responsibilities, liabilities, claims, demands, suits, judgments, losses, damages, costs, and expenses for any loss of, damage to, or destruction of any property or any injury to or death of any person arising from Customer's use, repair, maintenance, or disposition of the Products. Customer does not have to indemnify the Company for claims or liabilities arising from the Company's negligence or misconduct or material breach of its obligations arising under this Contract.
IX

. Warranty

The Company warrants that the Products manufactured by it and delivered under this Contract are free of substantial defects in material and workmanship for twelve months from the date shipped to Customer. Customer must promptly report to the Company in writing if the Products fail to conform to the warranty within the one year warranty period. Company will, at its option, correct such nonconformity by suitable repair to such Products or it will furnish a replacement part FCA point of shipment (Incoterms 2012), provided Customer has stored, installed, maintained and operated the Products in accordance with good industry practices and has complied with any specific recommendations of the Company. The Company is not liable for any repairs, replacements, or adjustments to the Products or any costs of labor performed by Customer or others without the Company's prior written approval. Repair or replacement of defective Products will constitute fulfillment of all responsibility and liability of the Company for such nonconformities. Products will not be accepted for return without the prior consent of Company. If approved for return, Company will issue a return goods authorization (RGA). A restocking charge will apply to Products (other than defective Products) that are authorized for return. All returned Products must be accompanied by the RGA, freight prepaid. All non-defective Products must be in first class, resalable condition.

EXCEPT FOR THE WARRANTIES SET FORTH ABOVE WHICH ARE LIMITED WARRANTIES AND THE ONLY WARRANTIES MADE BY THE COMPANY, THE PRODUCTS, SERVICES AND DELIVERABLES ARE PROVIDED STRICTLY ​"AS IS," AND THE COMPANY MAKES NO ADDITIONAL WARRANTIES, EXPRESS, IMPLIED, ARISING FROM COURSE OF DEALING OR USAGE OF TRADE, OR STATUTORY, AS TO THE PRODUCTS, DELIVERABLES OR SERVICES PROVIDED UNDER THIS CONTRACT, OR ANY MATTER WHATSOEVER. IN PARTICULAR, ANY AND ALL IMPLIED WARRANTIES OF MERCHANTABILITY, TITLE, SATISFACTORY QUALITY, FITNESS FOR A PARTICULAR PURPOSE AND NON-INFRINGEMENT ARE DISCLAIMED BY THE COMPANY AND ARE EXCLUDED BY THE PARTIES.
X. Limitation of Liability
THE REMEDIES OF CUSTOMER SET FORTH IN THIS CONTRACT ARE EXCLUSIVE, AND THE TOTAL LIABILITY OF THE COMPANY WITH RESPECT TO THIS CONTRACT OR THE PRODUCTS AND SERVICES FURNISHED UNDER IT, WHETHER BASED ON CONTRACT, WARRANTY, NEGLIGENCE, INDEMNITY, STRICT LIABILITY OR OTHERWISE, MAY NOT EXCEED THE PURCHASE PRICE OF THE SPECIFIC DEFECTIVE PRODUCT OR PART PAID BY CUSTOMER ON WHICH SUCH LIABILITY IS BASED.
XI

. Limitations on Damages

IN NO EVENT WILL THE COMPANY OR ITS SUPPLIERS BE LIABLE TO CUSTOMER, ANY SUCCESSORS IN INTEREST OR ANY BENEFICIARY OR ASSIGNEE OF THIS CONTRACT FOR ANY CONSEQUENTIAL, INCIDENTAL, INDIRECT, SPECIAL OR PUNITIVE DAMAGES ARISING OUT OF THIS CONTRACT, WHETHER BASED ON LOSS OF USE, LOST PROFITS OR REVENUE, INTEREST, LOST GOODWILL, WORK STOPPAGE, WHETHER OR NOT SUCH LOSS OR DAMAGE IS BASED ON CONTRACT, WARRANTY, NEGLIGENCE, INDEMNITY, STRICT LIABILITY OR OTHERWISE AND REGARDLESS OF WHETHER THE COMPANY HAS BEEN ADVISED OF THE POSSIBILITY OF SUCH DAMAGES.
XII

. Termination and Cancellation

Customer cannot terminate, suspend performance under, or issue a ​"hold" order on this Contract in whole or in part without the Company's written consent. Customer's liability for termination, suspension, or ​"hold" includes the Company's charges related to a hold beyond the price of finished Products delivered or held for Customer's disposition. Such charges include costs for work in process and other adjustment to the quantity delivered plus a charge for the undelivered Products. [DO YOU WANT TO SPECIFY WHAT THAT CHARGE WILL BE – E.G. 20% OF THE PURCHASE PRICE FOR THE PRODUCT?]

Neither party can cancel this Contract for breach of any of its provisions by the other party without giving the other party sixty (60) days advance written notice and a reasonable time in which to cure the alleged breach. However, this Contract may be cancelled immediately if (a) either party becomes insolvent, or (b) Customer fails to make timely payment. If this Contract is cancelled, the parties have the rights and remedies available under this Contract and, except to the extent excluded or limited by this Contract, at law.

The Company, without canceling this Contract, may decline to make further deliveries under this Contract if Customer breaches it. If the Company elects to continue delivering despite the breach, such action will not constitute a waiver of Customer's breach or affect the Company's remedy.
XIII

. Essential Basis of Bargain

Customer agrees that the fees charged by the Company under this Contract reflect the overall allocation of risk between the parties and are an essential basis of the bargain.
XIV

. Governmental Authorizations

All licenses or other required governmental approvals will be obtained by Customer at its sole cost and expense, and Customer agrees to comply with all applicable laws and regulations.
XV

. No Solicitation.

Customer agrees that it will not solicit for employment any of Company's employees, contractors, subcontractors or associates for a period of one (1) year after the date this Contract is completed and Company receives final payment. If Customer hires an existing Company employee in violation of this provision or an employee whose employment relationship with Company terminated within six months before being hired by Customer, Customer agrees to pay Company a fee equal to one (1) year's total compensation and benefits for that person.
XVI

. Controlling Law; Venue; Jurisdiction; Attorneys' Fees

The rights and obligations of the parties are governed by the laws of Michigan excluding any conflicts of law provisions. The United Nations Convention on Contracts for the International Sale of Goods does not apply to this Contract. Except as the Company may deem necessary to protect its interests in the Products or otherwise, neither party may bring any action involving the other except in the Circuit Court of Oakland County, Michigan, or the United States District Court for the Eastern District of Michigan, and the parties acknowledge and submit to the exclusive personal jurisdiction of either court.
XVII

. Waiver

Failure or delay in exercising any right or remedy under this Contract will not waive or impair such right or remedy. No waiver given will require future or further waivers.
XVIII

. Severability

Any portion of this Contract determined to be contrary to any controlling law, rule or regulation will be revised to be consistent with controlling law. If a portion of this Contract cannot be revised to follow controlling law, it will be deleted and the remaining balance of this Contract will remain in full force and effect.
XIX

. Entire Agreement

This Contract contains all the agreements, representations, and understandings of the parties and supersedes any previous understandings, commitments, or agreements, oral or written. These Terms may not be modified or amended except in a writing signed by a duly authorized officer of each party. Company specifically rejects any terms or conditions that may be contained in any Customer purchase order, communication or other record. If Customer issues a purchase order to Company related to this Contract, Customer agrees that no terms or conditions in that purchase order will apply to this Contract but acknowledges that the purchase order is issued for its internal recordkeeping purposes only.
XX

. Priority

Despite anything to the contrary in this Contract, if any of the terms or conditions in this Contract conflicts with any terms or conditions in the quotation that incorporates the Terms by reference, then the conflicting terms and conditions in such quotation control. However, nothing in any other document amends or deletes the limitations of liability or damages or exclusions of warranties in this Contract.
XXI

. Survival

Sections VIII through XX of this Agreement survive its termination or expiration. THE LIMITATIONS OF LIABILITY IN SECTIONS IX THROUGH XI SURVIVE AND APPLY NOTWITHSTANDING THE FAILURE OF ESSENTIAL PURPOSE OF ANY REMEDIES SPECIFIED IN THIS CONTRACT.